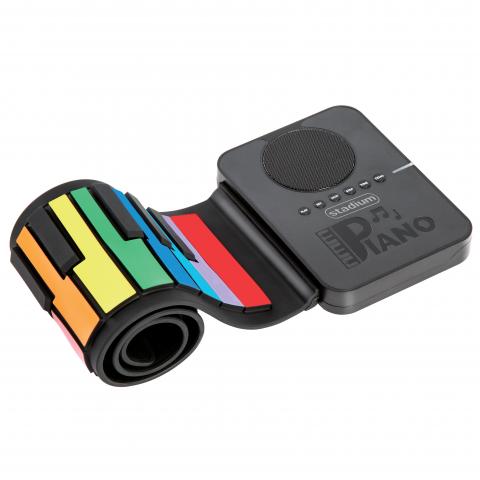 ROLL UP PIANO
Features:
Roll up design makes it easy to transport and store when not in use
Built-in speaker and headphone jack, with adjustable volume control makes it suitable for use in any situation
Teaching, record and playback modes all built-in
10 different tones to choose from including: piano, harmonica, accordion, oboe, trumpet, vibraphone, jazz guitar, acoustic guitar, violin and clarinet.
8 built in demo songs
Microphone input so you can sing along with the music (microphone not included)
Audio output for headphone or external speaker connection.
Micro USB input for connecting power, includes micro USB cable, does not include USB charger
Can also be powered off 4xAAA batteries to provide up to 12 hours playing time (batteries not included)
Description:
The Stadium ROLPIANO is an electronic piano keyboard with a built in speaker. Thanks to the clever design, the piano can easily roll up for transportation or storage. It features a teaching function and 8 demo songs for those who are just starting out and also includes record and playback mode. With 10 different tones including piano, harmonica & accordion just to name a few, you can change the sound to suit your style. If you want to keep the noise down while practicing it also includes a headphone jack so you can practice in peace. The ROLPIANO comes with its very own carry case and a USB cable for charging (charger not included).
Specs:
POWER: DC 5V (WALL USB POWER SUPPLY SOLD SEPARATELY)
SPEAKERS: BUILT-IN HIGH QUALITY STEREO SPEAKER SYSTEM
BATTERY: 4 AAA BATTERIES (ENABLES 10-12 HOURS PLAYING), NOT INCLUDED
PIANO TONES: 10 OPTIONS
DEMO SONGS: 8 OPTIONS
INCLUSIONS